9 Fintech events in 2020 you cannot miss
           Rapid technological advancements and transformations are occurring around the world every day, and entrepreneurs risk being left behind if they do not keep up. One of the key ways that entrepreneurs, fintech innovators and leaders of financial organizations can keep themselves abreast of the latest news, trends and fintech developments is by attending fintech conferences and expos. These events attract industry leaders, banks, representatives and accomplished fintech startups from all over the world, highlighting trendy topics and introducing new technologies. Below we've outlined some interesting conferences held around the world in 2020 that fintech enthusiasts should make sure to follow.
Money 20/20 Asia
           Money 20/20 is where people explore the future of money in the age of disruption. Fintech providers and financial sectors in the Asia-Pacific region gather to share their insights on payments and outlook on the financial ecosystem of the future and get up to date on the latest technology Asia has to offer. This year the event will be held at Marina Bay Sands in Singapore on 24-26 March.
           If you miss out on this event, you can still attend Money 20/20 Europe on 16-18 June in Amsterdam, or Money 20/20 USA and Money 20/20 China which are scheduled to be held later this year. Find out more about the event and register at asia.money2020.com/
IFGS 2020
           Highlighted as the flagship conference of UK FinTech Week 2020, IFGS is organized by Innovate Finance, an independent organization that aims to strengthen the community of fintech developers through cooperation with world-class financial institutions. Held for the sixth time, the main theme for IFGS 2020 is The Changing Landscape, highlighting the future of fintech from various angles. The conferences are designed for key people in the industry such as financial leaders, investors, and policy-makers, with topics such as "Regulators vs Politicians vs Industry: Who Takes the Lead?" and "2050: Who Will Win the Global Race for Talent".
           IFGS 2020 will be held on 20-21 April in London and is expected to attract over 300 leading fintech providers from all over the world. Check out the conference agenda and list of participants at www.innovatefinance.com/ifgs2020/
Bank + FinTech powered by Efma
           Efma is a global non-profit organization established as a network of banks and insurance companies helping to drive change in the financial and banking industry through knowledge sharing and conferences with over 3,300 member companies in 130 countries. This year the key event exploring financial innovation is Bank + FinTech, which will carry the theme: Unleashing the Power of Collaboration. From its 2019 survey, Efma found that banks are often reluctant to collaborate with fintech companies due to security concerns, so this year's conference will focus on showcasing successful collaborations between leading banks and fintech providers to drive financial institutions to be more open and confident that collaborating with fintech companies will benefit their customers.
           The Bank+FinTech conference is being held in Berlin on 21-23 April. Apart from that Efma is also organizing an Innovation Summit on 19-20 October followed immediately by the 48th Efma Congress on 22-23 October in Madrid. Find out more about the events at www.efma.com/conference/
Finovate Spring 2020
           Its unique conference format is what makes Finovate stand out as one of the most interesting fintech events of the year. Apart from six main conference stages, there is a stage for fintech developers to share their latest innovations within engaging 7-minute demos. The event attracts over 1,200 attendees comprising of fintech providers, industry experts and delegates from financial institutions each year. In 2020, Finovate Spring will be held in San Francisco on 27-29 May.
           Apart from the spring event, there are other events to follow such as Finovate Asia during 15-17 June in Singapore, and Finovate Fall during 14-16 September in New York City. Moreover, there are Finovate Middle-East and Finovate Award events scheduled for the last quarter of the year. You may register and find out more about the conference agendas at informaconnect.com/finovatespring/
The Future of FinTech 2020
           CB Insights is known as the leading global research institution in the financial industry, so it is no surprise why its annual event The Future of FinTech is considered the most anticipated event of the year to get exclusive industry insights and the latest updates in innovation. The conference attendees are influential key players including leading executives from the financial sector, fintech providers, unicorn startups and non-profit organizations from all over the world.
           This year's event will be held on 14-16 June in San Francisco with four conference stages, a fireside chat interview stage, and an innovation expo featuring the latest technology from more than 100 fintech providers. Find out more and register for the event at events.cbinsights.com/future-of-fintech
Seamless Asia 2020
           Seamless Asia is Asia's largest and longest running conference focused on cards and payments. Built on 20 years of experience, the conference is a key meeting place for players in the commerce industry. Financial institutions and startups in Asia can gain access to micro-events covering many facets of fintech such as payments, e-commerce and Insurtech. The exhibition is free of charge, while tickets are available for those who would like to access premium events such as the workshop, networking events and the Seamless Summit.
           Seamless Asia 2020 will be held on 24-25 June in Singapore as part of a series of conferences around the world such as Seamless Middle East 2020 on 25-26 March in Dubai, and Seamless Southern Africa 2020 on 6-8 April in Johannesburg. Find out more and register for Seamless events at www.terrapinn.com/exhibition/seamless/
Sibos 2020
           Attracting over 11,500 attendees from 150 countries last year, Sibos is considered one of the largest fintech and banking events in the world. It is an opportunity for financial institutions, startups and fintech developers to meet and share their perspectives on the advancement of fintech and the financial industry. The event also features an innovation expo from world-class fintech startups and service providers.
           This year the conference will be held in the financial hub of Boston on 5-8 October and registration will open from March onwards. Those who have missed out on the past Sibos or cannot make it to this session can find the highlight videos and podcasts from the events at www.sibos.com
Singapore FinTech Festival 2020
           The top-notch fintech event in the ASEAN region Singapore Fintech Festival returns for its 4th instalment this year, attracting fintech enthusiasts from financial institutions, startups, investors, and researchers, boasting over 60,000 attendees from 140 countries last year. The week-long festival features a variety of events including exhibitions, conferences, FinTech Hackcelerator Demo Day, and FinTech Awards ceremony. There is also a special event Innovation Lab Crawl which allows attendees to visit fintech innovation labs in Singapore and exclusively experience their product developments.
           The Festival will be held later this year between 9-13 November. You may find more information and register for the event at www.fintechfestival.sg
FinTech Connect 2020
           The last event on our list is FinTech Connect, which highlights the latest developments from fintech startups via exhibitions and demo sessions. FinTech Connect 2020 brings financial institutions together with fintech developers as the key drivers of future financial advancements. The main conference is also divided into six different tracks covering the factors that influence the financial industry today such as DX Connect: Digital Re-engineering, Blockchain Connect, RegTech & Security Connect, and Startup Launchpad.
           Expecting over 6,000 attendees, FinTech Connect 2020 is one of the largest fintech conferences in the UK. It will be held between 2-3 December in London. Find out more or pre-register at www.FinTechconnect.com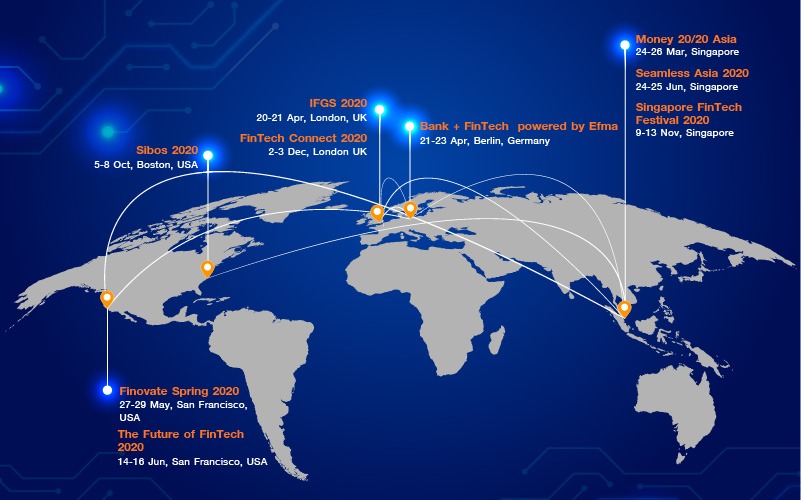 FinTech events in Thailand
           If you do not have the opportunity to attend these overseas events, there are also fintech events you can attend in Thailand. The Future of Financial Services 2020 will be held on 24 March at the Bangkok Marriott Marquis Queen's Park Hotel, expecting to attract over 100 attendees from banks, financial institutions and insurance companies in Thailand. For further information and registration, you may visit www.fst.net.au/conferences/
           The highlight event in Thailand is the Bangkok FinTech Fair organized by the Bank of Thailand (BoT) in collaboration with other government sectors, financial institutions and private companies. The event aims to create a network of knowledge sharing, innovation updates and collaborative opportunities that will drive the development of financial policies, systems and products to improve the consumer experience in Thailand. The date and location for the Bangkok FinTech Fair 2020 have not been confirmed, so remember to keep an eye out for the official announcement from the Bank of Thailand.
           Do not miss out on the chance to attend these fintech events in 2020 and arm yourself and your organization with the latest information, technology and trends that will ready you for the future.
Read More >> How close are we to a cashless society?