AntWorks using AI to simplify data analysis and business process automation
Many organizations are applying artificial intelligence (AI) to increase their efficiency. AI requires quality data to produce effective results. However, there are immense quantities of data that have not even been digitized or organized in a way that enables AI to use them. Furthermore, numerous organizations lack the right people, such as data scientists, to analyze whatever data they have. This is where AntWorks, an AI-focused startup, is stepping in to solve problems for companies.
AntWorks, whose name stems from one of the co-founder's fascination with ant colonies, creates AI platforms for automation, digitization and enterprise intelligence.
ANTstein™, its AI enterprise intelligence platform, uses machine learning, adaptive learning and pattern recognition to allow for better management and analysis of data. The data management process is constantly evaluated using advanced diagnostics and to enable strong, valid data-driven decision-making.
The company's unique product uses human-like bots to develop new ways to automate complex processes. These bots display the same cognitive, pattern-reading abilities as humans in that they can read and analyze structured and unstructured data. This enables AntWorks to digitize many types of information for a variety of industries.
AntWorks, which operates globally, is led by three passionate people whose ultimate goal is to deliver the highest levels of customer satisfaction. They are Mr Asheesh Mehra, CEO, Mr Govind Sandhu, CFO, and Dr Venkatanathan Dwarakanathan, chief technology officer.

Mrs Rajani Bhima Rao, Senior Manager – Projects,
Ms Donruedee Pitakprachakij, VP Corporate Communication and Planning, Bangkok Bank
and Mr Richard Jones, Senior Vice President Sales Asia Pacific
What was the inspiration behind AntWorks?
Asheesh and Goven started the journey in 2015 when they raised cash from friends and family to buy a business process outsourcing company that focused on the healthcare payer industry. That acquisition led to the founding of AntWorks.
They discovered a revenue-management tool within one of the acquired company's products and were so impressed with the technology the program used that they got in touch with its owner, Dr Venkat.
After a meeting of minds, the three of them co-founded AntWorks Group, which comprises AntWorks Healthcare and AntWorks Products. Combined, the companies are able to fully automate the healthcare revenue lifecycle-management process for more than 500 clients around the world.
What makes AntWorks unique?
Mr Richard Jones, senior vice president of sales, said AntWorks differentiates itself by using AI based on fractal science. Fractal science differs from the more commonly used neural science-based AI in that it can recognize entire patterns and not just single characters. This enables it to recognize and process a much broader range of information and characters.
AntWorks products also boast highly developed language capabilities. The cognitive recognition engine can understand grammar. This means it recognizes "patient's name" means the same thing as "name of the patient" when searching a document.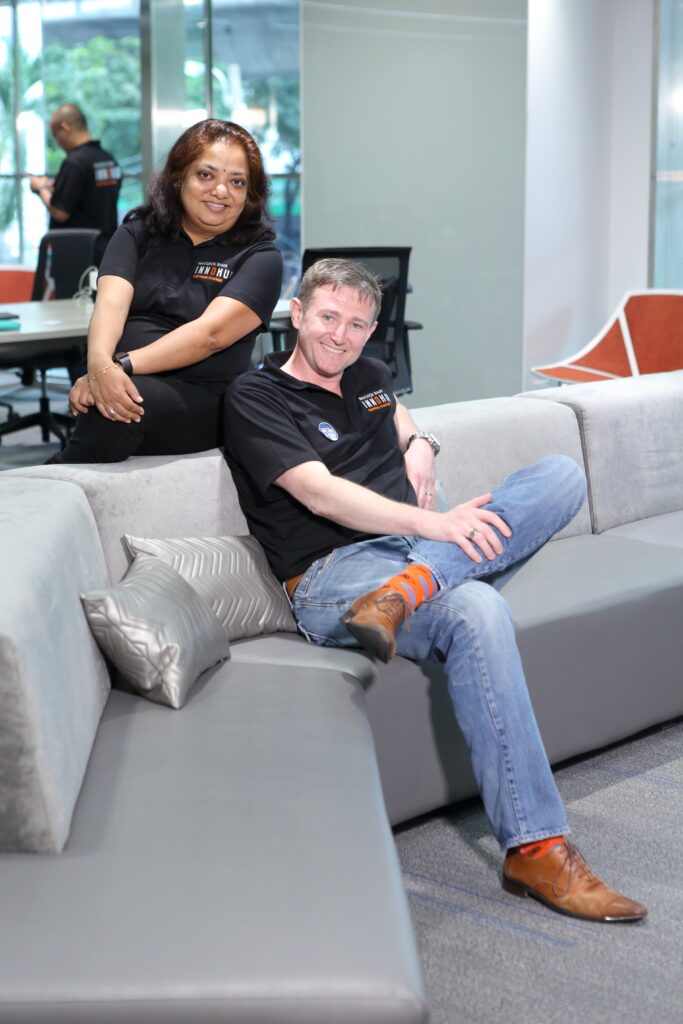 Mrs Rajani Bhima Rao, Senior Manager – Projects and Mr Richard Jones, Senior Vice President Sales Asia Pacific
"Our AI engine also has amazing learning and automation capabilities which can offer clients analytics as well," says Richard. "Our analytics reports can show how the data was parsed so clients have a clear view on where all their data is coming from."
AntWorks is the one of the few AI platforms that can recognize every data type which means the company can develop solutions for diverse client needs, such as a module they have already built for a client that handles all tax requirements
What are the biggest challenges of running a startup?
Finding the right talent is AntWorks key challenge. "Finding talent is exceptionally hard in this market," says Richard. "Finding talent at a rate that keeps up with the pace to which we are scaling is a real challenge."
AntWorks hired 65 people, about a quarter of their current workforce, over the past four months. The company hires globally and also faces a challenge in maintaining its culture amidst a rapid influx of new team members.
Why did AntWorks apply to Bangkok Bank InnoHub? How did you feel about becoming a finalist?
AntWorks believes digitizing Thai is an essential step in the broader digitization of Thailand. However, there are significant challenges with the language. It is more complex building an AI system that can interpret Thai than it is for a Latin-based language, such as Spanish.
"Our team thrives on tough challenges," says Richard. "The combination of the opportunity to work with one of the largest banks in Thailand, on what we believe is a very complex problem to solve, was something we could not pass on. We are lucky to be here."