Pand.AI opening and innovating internal communications channels using intelligent chatbots.
Many businesses, such as mobile operators, banks, hotels and marketplaces, use chat as a channel through which customers can contact them. Chat plays a role that was previously managed by agents or customer care teams. Many companies use chatbots to manage the higher volume of questions from customers, many of which are asked multiple times. Pand.AI is one of many startups offering chatbot services. We talk to them on what makes their service different from others.
Pand.AI is a Singapore-based AI startup that combines art with science.
The art is demonstrated in Pand.AI's conversational user experience (UX) when interacting with an automated agent over chat interfaces, such as a chatbot. The UX provides human-like communication which combines expert advice, a wide vocabulary, empathy and a touch of humor. Furthermore, extensive testing is conducted to ensure the call-to-action meets the business objectives of clients.
The science comes from Pand.AI's deep-learning natural language processing (NLP) algorithm. Deep NLP is able to learn from complex language, word usage and abstraction without human intervention.
Combining these technologies enables Pand.AI to offer services that combine lead generation, claims for reimbursement, training support, employee support and customer service automation. It also provides internal support, such as a human resources interface, that assists employees with internal issues and employment matters.
What was the inspiration behind Pand.AI?
Mr Shin Wee Chuang, CEO and co-founder, says he always wanted to run his own company. He was inspired by watching his father build a small business from nothing and transform it into a very successful company.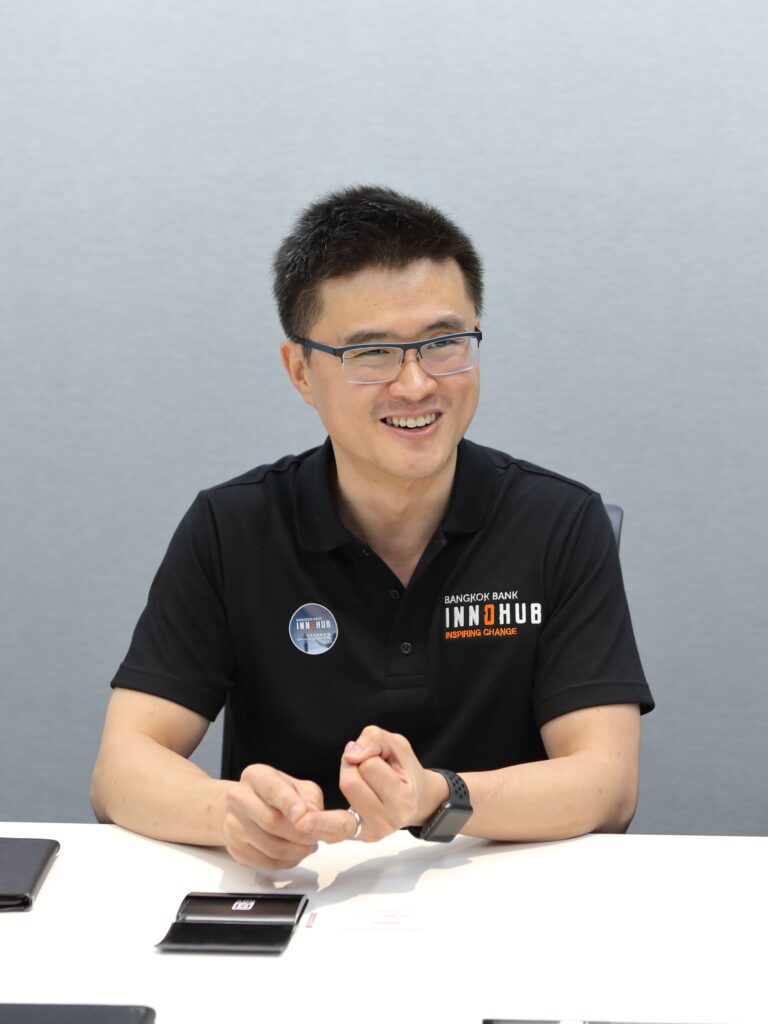 Mr Shin Wee Chuang, Co-Founder and CEO
Shin Wee gained a lot of experience working for major companies in the financial services and technology sectors, such as Citibank, Microsoft and Standard Chartered, where he was given a number of leadership roles. During this time, he saw how many banks struggled with communications with vital information often getting lost between head office and frontline staff. Most banks still use email or the telephone as key communications channels.
Shin Wee saw developing a chatbot as a solution to this problem "to ensure frontline staff receive proper information whenever they need to access it".
"Chatbots are a great tool to ensure that questions are answered immediately so staff can assist clients quickly and effectively," he says. "The technology allows for immediate feedback and ensures frontline staff remain your main distribution channel for external communications and information."
What makes Pand.AI unique?
Pand.AI uses AI that can understand natural language, meaning it can answer a wider range of questions than many other platforms in the market right now. The technology learns to understand local language terms and colloquialisms, as well as language specific to financial services.
The company's team also works with clients to organize and clean the data to enable the chatbot to operate more effectively and learn how to provide more answers.
Pand.AI's unique bot-to-bot technology enables chatbots to call other chatbots for help when they are unable to answer a question.
What is the biggest challenge to running a startup?
"The biggest challenge I face as CEO is making sure I have enough cash in the bank to pay my team," he says. "It often keeps me awake at night." It is a problem experienced by most bootstrapping startups."
Another challenge is keeping the team motivated. "I am constantly focused on keeping my team motivated and ensuring we are constantly delivering a good quality product to the client." Shin Wee says this is not an insurmountable problem as he has a great team of motivated, highly-skilled intelligent people.
On the upside, Shin Wee has not had a problem finding talent. He says when you have a good product and give your team autonomy, the right talent comes to you.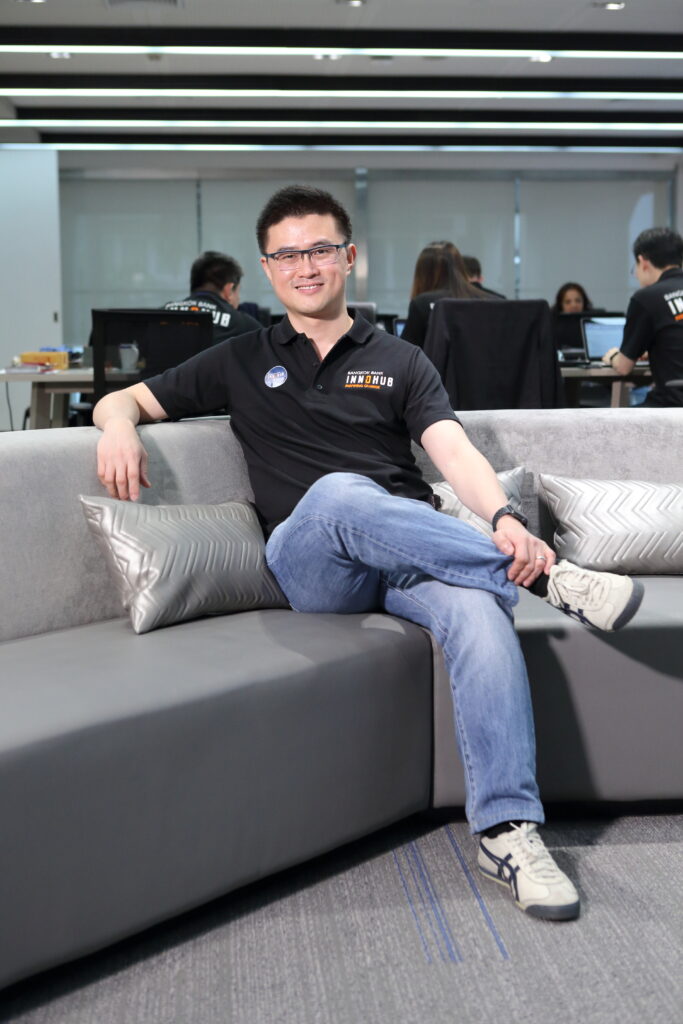 Mr. Shin Wee Chuang, Co-Founder and CEO
Why did Pand.AI apply to Bangkok Bank InnoHub? How did you feel about becoming a finalist?
Bangkok Bank and Pand.AI are a perfect match because the startup focuses on the financial sector and Bangkok Bank is one of the largest banks in Thailand. He says, "It was an easy decision to apply to the accelerator program as it was a great opportunity to work with a dynamic and innovative bank in a potentially huge market."
Pand.AI has also started expanding into other countries and sees Thailand the right market to enter during its growth phase due to the country's dynamic economy.
"InnoHub is an accelerator program that is about solving real problems businesses face," he says. "This is much better than simply going through a series of academic exercises and hope you are learning how to solve a problem a business may experience one day.
"It is also a great opportunity to have a material impact on the lives of employees and customers in Thailand."
Shin Wee looks forward to having his team solve real-world problems using technology and AI solutions in Thailand. The heart to the success of chatbots is building a good customer experience, so chatbots must be able to carry on natural conversations with customers. Pand.AI prioritizes this by using an AI-driven Deep NLP engine. The startup is learning how to use this technology and other developing technologies to sharpen their chatbot services so that it can accurately answer questions from customers in the most efficient way.