Robot Photographers – will they make human photographers lose their job?
           People were intrigued by the recent dream wedding of a British couple – in addition to the flowers and beautifully attired guests, there was a robot. Yes, that's right – a robot called Eva was their official wedding photographer and this fascinated those taking part in the ceremony. So now we are starting to see robots mix in more with humans does this mean that human photographers will be replaced with robots? Let's see what they can do!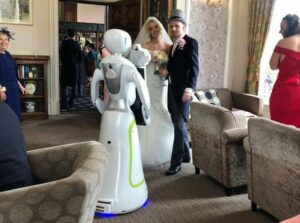 The robot Eva has a touch screen installed on her body, so the guests can prepare themselves before letting Eva take their photos. Eva can move freely without colliding by using infrared sensors. She is also equipped with a facial recognition system, so can move towards people and photograph them. Before the event starts, the staff will set up a printing booth that connects to Eva for a quicker printing service. The photos taken by Eva can be uploaded or shared instantly to social network platforms like Facebook.
           The spokesperson for Eva said that people see a photo booth as something generic and boring, and clients like something new and exciting. The use of a robot will make the event more memorable for the guests and more special for the hosts.
           This means an intelligent robot, also known as a "Smart Object", can be successful in real situations such as weddings, seminars, or parties. However it is too soon to say that robots such as Eva will fully replace human photographers, as they still lack qualities like artistic composition and working independence (without needing input data before they can operate). They are used in these situations more as a way of attracting and capturing the interest of the attendees. However, as people can now hire or buy a robot just like any other type of goods in the market, it is possible that in the near future we might see robots used as personal photographers more often.
Read more >> "Nu-Kho-An" – An Intelligent Thai AI To Help Kids Learn