Southeast Asia: 3 fintech trends in 2019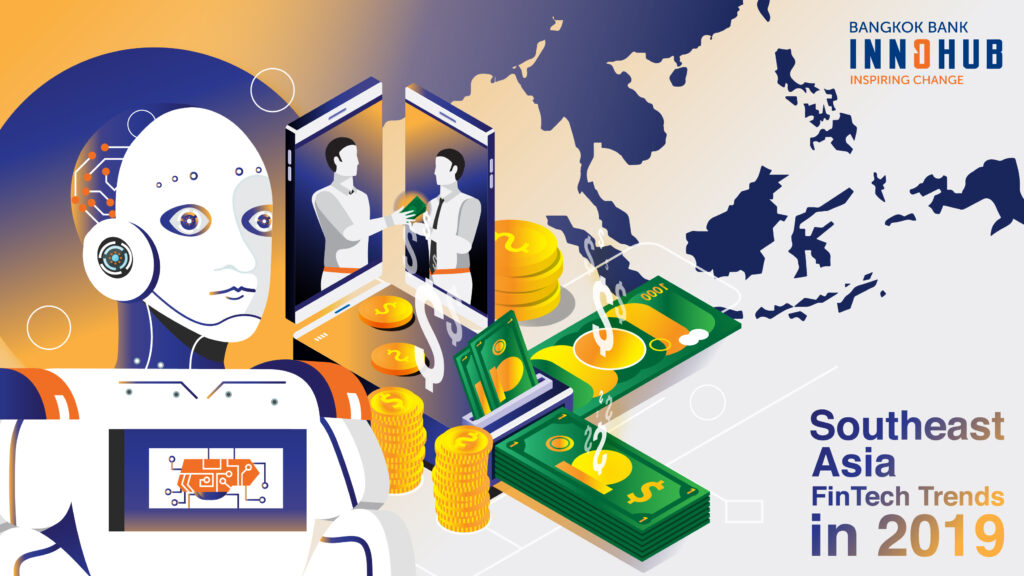 The financial world has constantly evolved, but nothing can compare to the rate of change over the past five years. Technology has forged a new path for both tech giants and startups who are competing for opportunities in this realm. This competition is also forcing banks to change.
In Southeast Asia, countless new players which would have remained unknown a decade ago are emerging. Let's take a closer look at the rapidly changing landscape in 2019 and how it will affect consumers.
The future of AI in Southeast Asia's financial industry
"AI is electricity" said Andrew Ng, Former Baidu Chief Scientist, Coursera co-founder, and Stanford Adjunct Professor  at the Stanford MSx Future Forum.
He was reminding us how every business was transformed by the use of electricity in the previous century. Today, AI is transforming industries such as manufacturing, healthcare, automobiles, the media, and financial sector in a similar way. This is happening all over the world including Southeast Asia.
At its simplest level AI is changing the way businesses interact with customers using chatbots. But chatbots can be used for much more than just communication. For example, they can analyze spending habits and provide tips on how to save money or suggest how to successfully invest and gain the best returns. AI can also provide financial institutions with enough computing power to swiftly detect and resolve issues such as fraud or money laundering.
Process automation is another noteworthy example of AI. Banks have to store and manage information about customers, including documents and employees often manually fill out forms such as loan applications for customers, which wastes a lot of time. However, Intelligent Character Recognition (ICR) helps systems recognize, extract, store and analyze information.
Since AI is so essential to banking of the future, Bangkok Bank has recruited several startups that are applying AI in innovative ways for Bangkok Bank InnoHub Season 2.
AntWorks offers corporates an AI-based solution to convert data from diverse formats into a digital format. It uses an AI-based data analysis system to create statistical reports or obtain new information about client behavior and significant events.
Pand.ai is the developer of a chatbot system which uses an AI engine and Natural Language Processing (Deep NLP) to gain a more efficient understanding of human conversation and provide more natural responses.
Vymo uses AI to enhance the entire sales process including sales, marketing and after-sale support.
You can find out more about these and other startups participating in Bangkok Bank InnoHub Season 2 in the upcoming in-depth interviews.
Non-Financial tech expansion throughout Southeast Asia
The tech giants that are expanding throughout Southeast Asia usually start from one business such as an e-commerce, ride-hailing, or chat applications. Once they have gained a large user base, they enter the financial sphere, where, for example, they can provide services such as payments, loans and insurance. These kinds of business models have been adopted in China for some time and they are now spreading to Southeast Asia due to the large number of internet and smartphone users. To expand in these markets, the giants may acquire or invest in local companies and become their strategic partners.
The dramatic rise of digital lending in Southeast Asia
Most countries in Southeast Asia have developing economies where people have limited access to sources of funds. One reason for this is that it is difficult to track a person's credit history. However this will change with today's technologies, as once a system has acquired enough data it can assess the creditworthiness of the person applying for loans.
Banks can collaborate with tech companies that have consumer data and analytics to build Digital Lending Platforms. For example, some tech companies might possess data about farmers, taxi drivers or messengers/couriers and banks can gain access to this data by partnering with them. This enables efficient loan analysis, giving people with low incomes a better chance to access funds.
These are three key fintech trends we will see across the region this year. During this era of rapid and intense change, businesses must keep learning and be ready to adapt at all times. Those who refuse to change, believing that they will remain safe from digital disruption, place their companies at risk, especially in the world of fintech, where new players are coming from all directions to grab market share. Meanwhile tech experts can creatively apply their skills and technology to offer efficient business solutions and grow their own business at the same time.