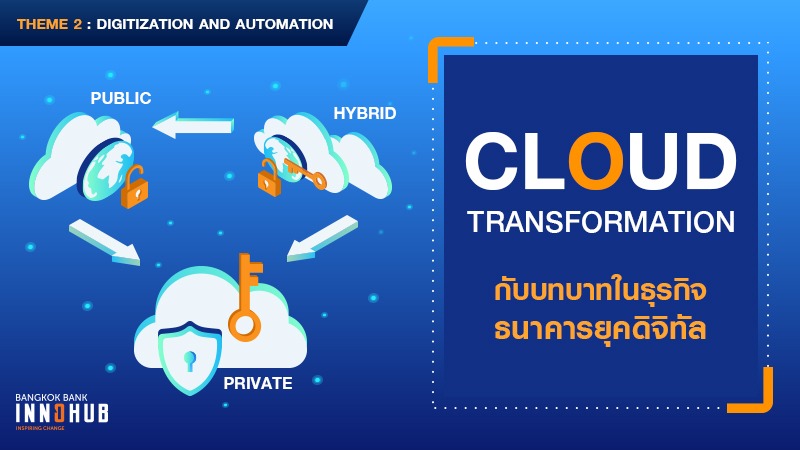 Cloud Transformation and Banking in the Digital Age
           In today's age of Digital Transformation digital technologies play a pivotal role in business efficiency. Winners are those who move faster, solve problems more precisely, and think smarter. To achieve such agility, a robust technological infrastructure is needed. Cloud Computing, a technology that enables the customer to use computing resources over the Internet, enhances business flexibility and scalability tremendously while reducing costs in infrastructure deployment and maintenance.
           There are three different Cloud Computing systems. The Public Cloud is a system where central computing resources accessible to various organizations are owned and operated by the service provider. In contrast, a system where an organization has exclusive rights and access to the computing resources is called Private Cloud. Lastly, Hybrid Cloud is a flexible system that allows an organization to access cloud computing both publicly and privately according to appropriate data usage. For example, the Public Cloud is used to compute a large amount of data while the Private Cloud is used for data that requires higher security.
           Cloud Computing is now widely accepted and used across multiple industries including banking and finance. A growing number of financial institutions around the globe are utilizing Cloud technology to add speed, flexibility, scalability and cost efficiency to their infrastructure. Cloud Computing also acts as a stimulus for rapid innovation since it allows FinTech developers unfettered access to otherwise limited computing resources. Today, many banks are moving computing tasks up to the Cloud and developing a digital platform on the Cloud. Some are even moving their whole IT infrastructure to the Cloud instead of operating a conventional on-the-ground Data Centre.
           The benefits banks gain from Cloud Computing extend to their customers as well. The agility and cost efficiency of Cloud Computing will enable digital banking services to become more stable, reliable and easily accessible with more functionality and lower service fees.
           Technology adoption and preparation for digital disruption are no longer a choice for a business which wants to survive in this era, and Cloud Computing is a key to that survival. Cloud technology is no longer an emerging trend – it has already proven to be beneficial to businesses in Thailand and globally. There is no doubt it will become more widely adopted.