Jumper.AI allows the use of social media to directly sell to your target market
E-commerce is a rapidly growing market. Today's consumers have the option to purchase items from various platforms, of which many of the most popular are social media such as Facebook, LINE, and Instagram. However, these platforms were not initially built for e-commerce. This is where Jumper.AI comes into the picture, with its aim of helping businesses use social media as a storefront that can serve as a complete channel for delivering products to customers.
Jumper.AI uses machine learning and AI to help clients leverage the power of social media to sell their goods online and offline. Their platform enables people and businesses to use social media channels to find the right customers and sell to them directly in a seamless manner.
The company caters to businesses of all sizes from its offices in Singapore, Los Angeles and Mumbai.
What was the inspiration behind Jumper.AI?
Jumper.AI's founders, Ms Nyah Shree and Mr Yash Kotak, have a long history in the startup world with a number of successes and — inevitably — a few failures along the way.
Nyah was the founder and director of Kincredible Tech, a tech and development agency based in India. Yash was the managing partner of Kincredible Tech and CEO of Bumper(rr), based in Singapore. Yash's startup career began in 1995 as the CEO for Web-o-Magic and Nyah's career started in 2012 when she co-founded an online tutoring platform.
From working with clients in the digital space they knew how important social media is for communication and advertising. They also knew more could be done to improve and simplify the buying experience through social media and set out to achieve this.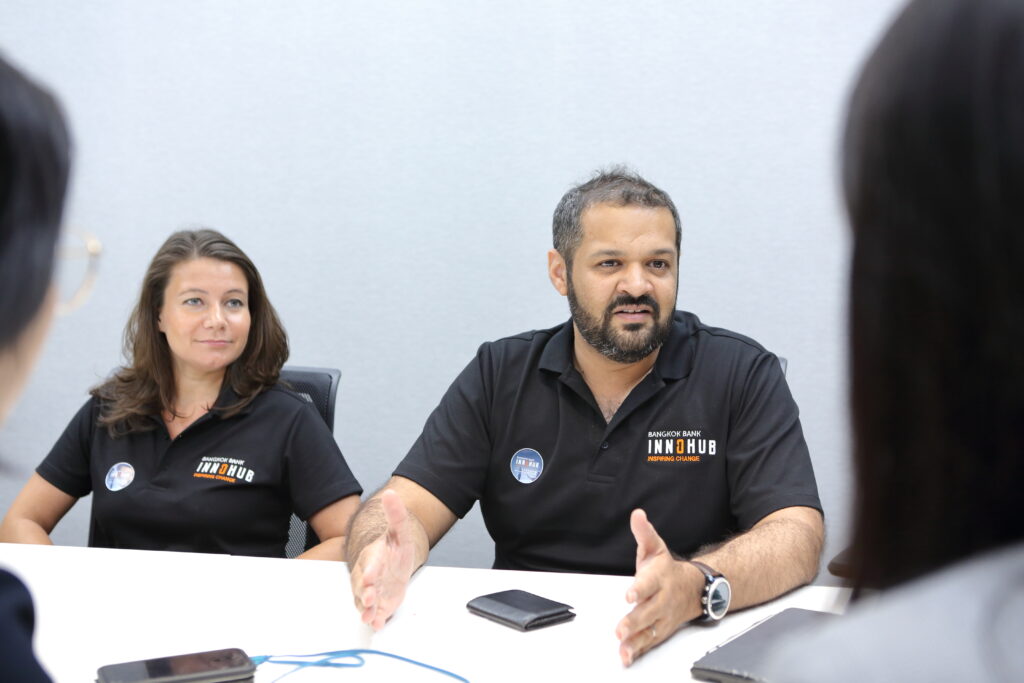 Ms Anna Rehermann, Head of Growth and Mr Chirag Kotak, All Things Business
What makes Jumper.AI unique in the market?
Jumper.AI is a business-to-business-to-customer company (B2B2C), says Mr Chirag Kotak, who describes his position in the company as "all things business". "We provide an end-to-end solution for merchants to leverage social media and turn it into a point of sale."
He says there are other platforms that focus on e-commerce and online marketplaces, but Jumper.AI allows merchants to do all the targeting of, and selling to, business and individual customers via social media. Jumper.AI has significant growth potential as customers are spending much of their time on social media.
Jumper.AI supports Facebook, Line, Twitter, Instagram, YouTube and Pinterest. It will soon expand to Telegram, WeChat, WhatsApp and Viber.
What are the biggest challenges of running a startup?
Jumper.AI is currently focused on growing the business. But focusing too much on growth can bring its own problems, says Chirag.
"Unfortunately, some of our business processes, such as accounting and operations, fall by the wayside," he says. "No one really enjoys doing these tasks, but they have to be done. So one of the challenges is to ensure operations and accounting are always up to date and running smoothly."
The biggest challenge, however, is changing the behavior of merchants and their clients. First, Jumper.AI has to convince merchants to use social media as a sales channel. Secondly, they need to change the behavior of consumers so they embrace online purchasing and social commerce.
"While most people already shop online, transacting completely via social media requires a change in behavior," says Chirag. "That is where we are focusing most of our marketing efforts."

Ms Anna Rehermann, Head of Growth and Mr Chirag Kotak, All Things Business
Why did Jumper.AI apply to Bangkok Bank InnoHub? How did you feel about becoming a finalist?
"We couldn't pass up the opportunity to work with Bangkok Bank," says Chirag, adding that their team was thrilled to be chosen for the program considering the number of applications from around the world.
Not only does Bangkok Bank InnoHub accelerator program allow startups to work with one of the biggest banks in Thailand, but he also says it provides mentoring and support from partners such as Bualuang Ventures and Nest.
"We are enjoying the enthusiasm of Nest and the Bangkok Bank team — it is not only coming from us."
Jumper.AI particularly values how the bank is helping focus their actions on solving real problems.
"It feels like we already have a partner," he says. "It's been a rare and great experience."
Right now Jumper's future plan is to become the number one social commerce platform in the world.
There is still room for growth for e-commerce in the form of social-commerce because consumers use various social media platforms for communication. Jumper.AI not only connects merchants with consumers seamlessly, but also allows merchants to gather information to create a customer base in order to understand purchasing behavior and to keep up to date with customer preferences in order to generate repeat purchases.