Bangkok Bank InnoHub Season 2 accelerates startup success
Bangkok Bank InnoHub Season 2 helps drive Thailand's technology ecosystem
Season 2 of Bangkok Bank InnoHub, the first global FinTech accelerator in Thailand was a 12-week program, held between Aug 2018 – Mar 2019. The accelerator program, now in its second year, provided a one-of-a-kind opportunity for the talented startups that participated, with a focus on developing long-term business relationships.
For the second season, eight startups were selected from 128 applications from 28 countries. Everyone demonstrated how their technology can be used to benefit the Bank's customers and improve the Bank's systems following the five themes of Creating Unique Customer Experience, Digitization and Automation, Future SME Solution, Innovative Payment, and Discovering Cutting Edge Technologies.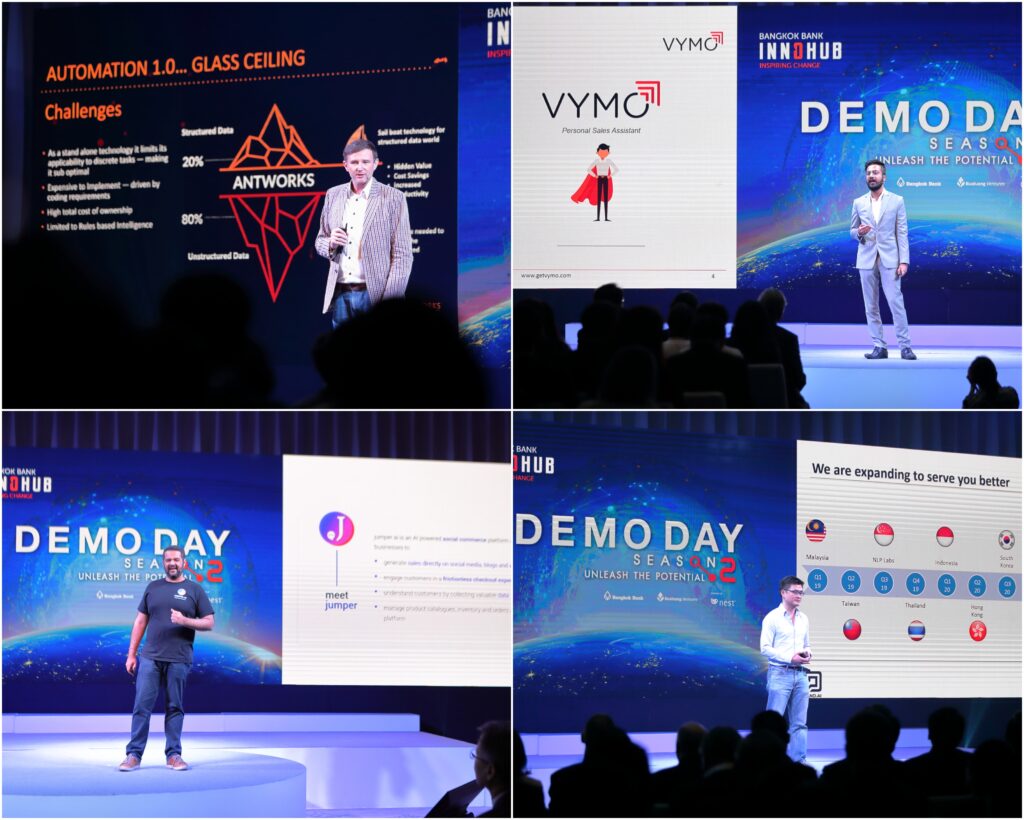 Four of the startups teams — Antworks, Vymo, Jumper.AI and Pand.AI — are pioneers in different fields of Artificial Intelligence (AI),
"Bangkok Bank InnoHub has shown us how we can engage with a large corporation through an accelerator program," said Richard Jones, Senior Vice President Sales Asia Pacific of AntWorks. "The distinction for us is that the mentors provided us with deep knowledge about requirements, pushed us to develop our service within a very short space of time, and gave us the confidence to believe that we could penetrate the Thai market." He added the program gave them an opportunity to grow in a new direction.
Jumper.AI is Thailand's first social commerce platform to offer end-to-end solutions for managing an e-commerce store, social media and payments. Bangkok Bank's InnoHub program helped the team to see the potential for market expansion in the Southeast Asia region.
"As a startup our biggest challenge is how to make the most of the limited resources that we have including our experience and skills," said Chirag Kotak, representing All Things Business at Jumper.AI.
Through the program Pand.AI gained new knowledge about the Thai market and banking system while gaining an opportunity to develop solutions to the real issues facing the business sector.
After studying the way small and medium enterprises pay bills in Thailand, Sepulsa, an Indonesia-based bill payment aggregator, distribution network and promotion platform, joined forces with Vymo to create a sales CRM experience that combines mobility and intelligence. Highly acclaimed as the world's first enterprise-grade personal assistant, it takes Vymo only a few weeks to deploy total sales and CRM solutions and a few months to get a return on investment, whereas traditional CRM takes up to eight months. So far this CRM system has been used by more than 75,000 sales agents in global institutions.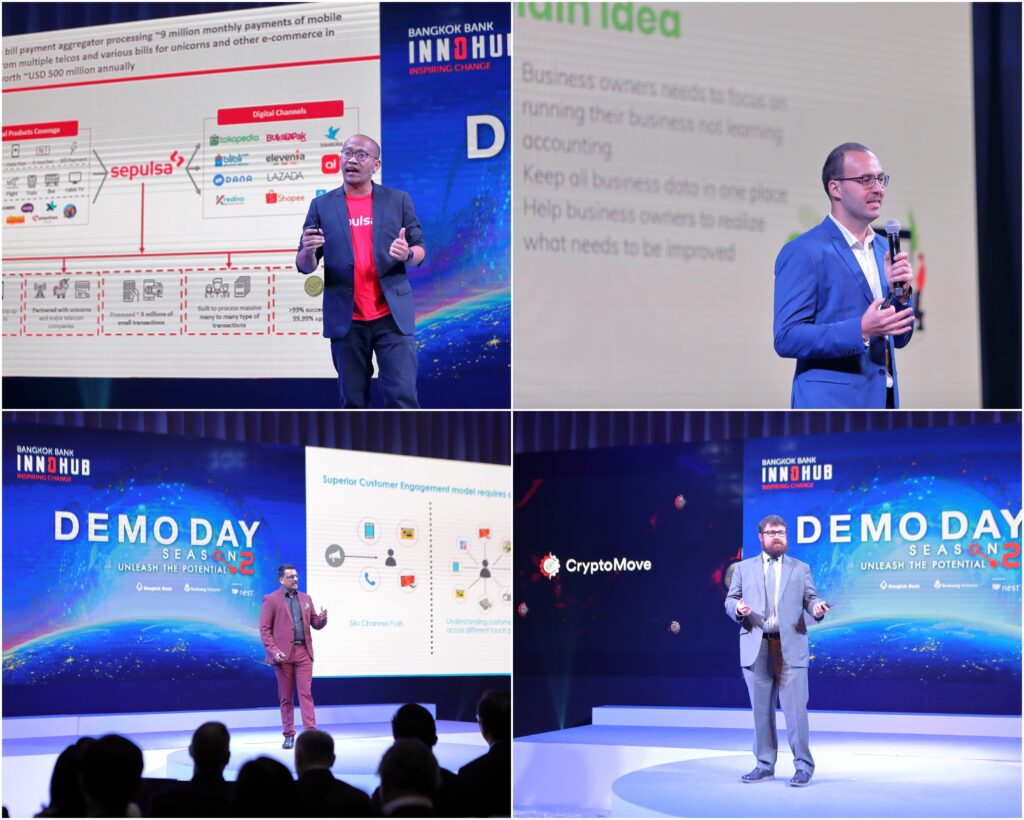 "We want to be extremely responsive to our partners and customers and the sales solution is designed for this," said Ananto Wibisono, CEO of Sepulsa, which is currently part of the Alterra Group. "We are impressed with Vymo's mobility and intelligence and excited about the value it can add to our sales productivity."
Eywa and Pymlo also gained synergies as a result of the InnoHub program which encourages startups to not only get to know each other but to share knowledge and inspirations that will help them develop innovative services and solutions to meet the market's needs.
These are some of the unique opportunities gained by the startups taking part in Bangkok Bank InnoHub Season 2 in their work with the bank.
Of the eight, three startups are in the scoping stage with the bank, three are at the 'Proof-of-Concept' (POC) stage and two are in the pilot stage.
POC demonstrates that a solution is practical and meets the market's needs. For example, it could show how it can integrate with the bank's systems, complies with laws and regulations, and presents no risks. Pilot Testing demonstrates specific functions such as making financial transactions.
The success of the program is demonstrated by the fact that three of the startups from Bangkok Bank InnoHub Season 2 have reached the POC phase, while two are undergoing Pilot Testing. This agility in adopting new technologies demonstrates that the collaboration between the bank and startups will help drive Thailand's technology ecosystem to global levels of excellence.
Check back again here to find out which project will enter the next phase of commercialization.